Over the years, the cost of learning has reduced. You no longer have to attend the traditional in-class university courses. There are plenty of online web development courses that can assist in polishing up your computer skills. Whether you are a beginner or an expert looking to advance your technical skills, you can find the right online web development course. All you need is a strong internet connection and a tablet, laptop, or smartphone.
Web development refers to developing and designing a website to improve its functionality. It involves coding and programming a website. Web development consists of basic programming introductions to web development best practices. Many companies want to expand their online presence. In turn, there is a huge job market for web developers.
Why Should You Study Web Development?
In this digital era, everything has an online presence. From food, clothing to shopping, every brand is interacting with its consumers on the web. As a result, there is an increasing demand for competent web developers. They create interactive websites that enable various brands to provide their services globally. Thus, they form a crucial part of any company or brand from any industry.
Another reason to study web development is that it offers a high income. According to Indeed, web developers earn an annual salary of $72k in the U.S. On the other hand, front-end web developers earn $155k per year.
Web developers also have the freedom to work from anywhere they please. You can choose to work full-time at a major tech company. You can also choose to make a living as a freelance web developer, depending on your preference. With a secure and robust internet connection and a laptop, it is possible to work remotely or in-person.
So long as you have an internet connection and a computer/laptop, you can start building your website or application. Similarly, many free online courses on web development will furnish you with the required skills to create a website.
A career in web development goes beyond monetary value. It also allows individuals to express themselves creatively. If you do not prefer to create online content or pay for essay writing services to fulfill your creative nudge, web development is the next best thing.
It enables people to discover their ideas and explore their web development skills further. It also allows them to impact the world uniquely with their web development skills. You never know, you might be the next Mark Zuckerberg or Bill Gates!
Five Best Online Web Development Courses
Through online web development courses, anyone can start learning it immediately. Most professions need years or months of training for you to get started. With web development, you can begin immediately. Often, you will not find any prerequisites. Below are some popular online web development courses to help you become a web developer.
1. Khan's Academy Computer Programming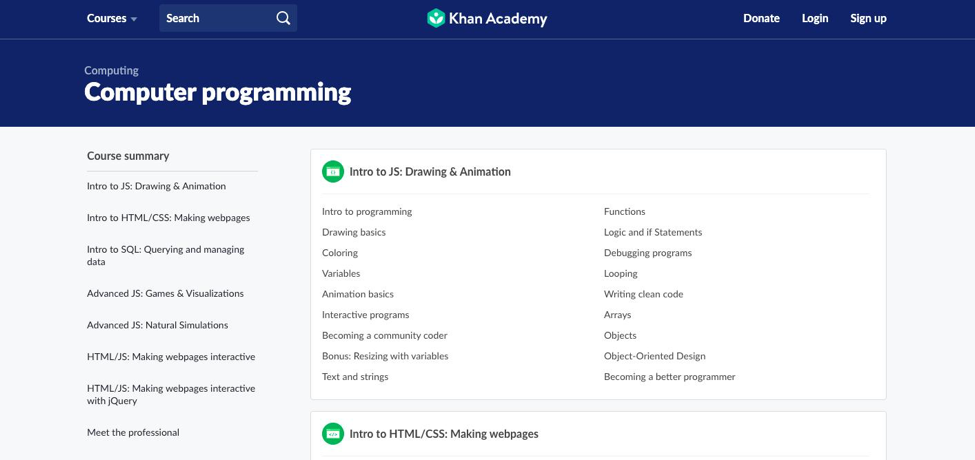 Computer Programming by Khan Academy is an excellent learning site. It offers all types of subjects, including computer programming. This site features a series of self-guided audio and video tutorials. It also has various web development experts that give extensive explanations on the topics. With the help of interactive on-screen windows, the experts display their explanations and the expected outcome as the narrations occur.
2. Codecademy's Become a Web Developer Online Course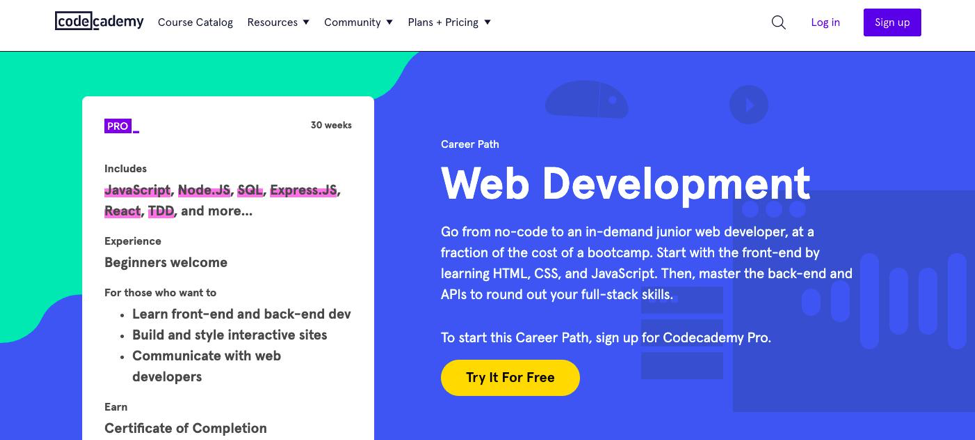 Codecademy provides a variety of self-taught coding tutorials in 12 markup and programming languages. These languages include React.js, Java, Ruby, JavaScript, Sass, CSS, HTML, AngularJS, and Python.
This online web development course is best for beginners. It provides real-time feedback from peers and a hands-on experience to its learners. The course features a self-contained in-browser environment. As a result, learners can understand both front-end coding and back-end languages.
3. Coursera's Programming for Everyone Online Course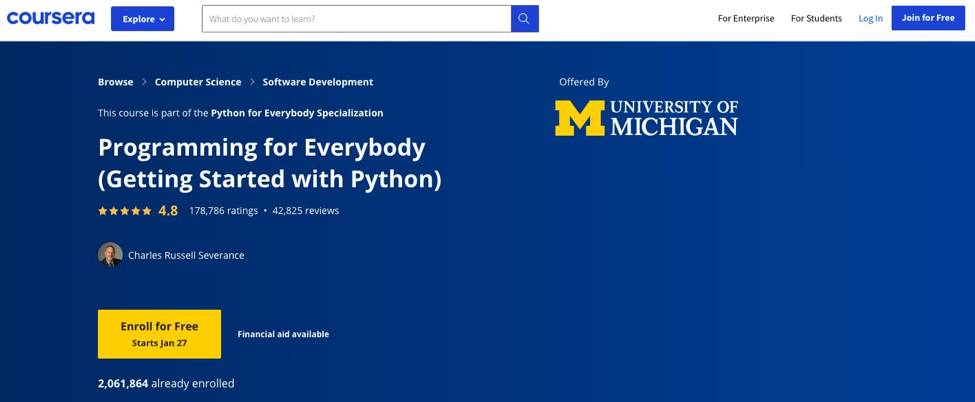 Coursera is a reputable learning resource with various online courses from different universities worldwide. There are also many online courses on computer science, programming, and development.
Its Programming for Everyone course is an excellent beginner's tool. The course ensures its students understand programming basics using Python. It is a 12-hour course that requires basic math to master its materials. There are also other free programming courses on the site that you can find. Likewise, there are those that require payment and confer a certificate or degree upon completion.
4. Udemy's Web Developer Bootcamp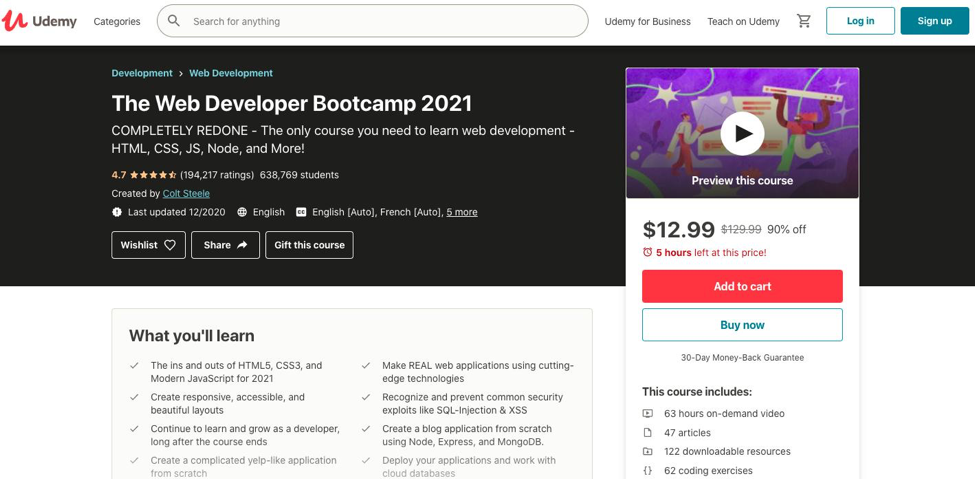 The Web Developer Bootcamp by Udemy is a popular web development course. It provides learners with all they need to know about web development. The course covers many tools and technologies in web development. Some of them include SemanticUI, HTML5, Javascript, CSS3, npm, Flexbox, and many others.
Ideal for beginners, this course teaches how to make web applications using cutting-edge technologies, like Bootstrap 4. It also shows how to build blog applications using SemanticUI, MongoDB, and Express. At the end of this online course, you have tons of web development skills, ready to compete in the job market.
5. Google's Web Fundamentals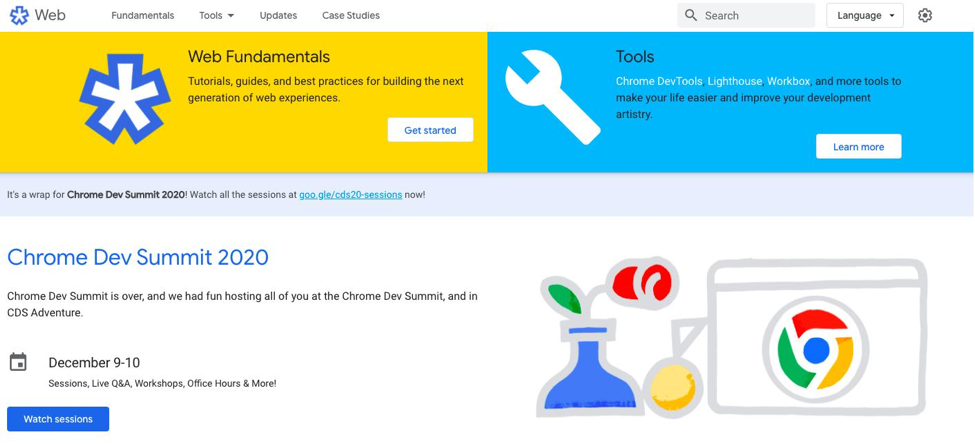 Web fundamentals by Google provide the basic web principles and other fundamental technologies. Whether you are a beginner or an advanced web developer, this course has something for you.
At the end of this course, students can expect to understand HTML and HTTP protocol functions. They will also know the elementary graph theory and the page rank algorithm for web search. They will also have the ability to use CSS and create a functional HTML page. The course occurs at your own pace and has no prerequisite. But, you have to enroll on the Piazza platform to communicate with the lecturer and your peers.
Conclusion
Choosing the best online web development course can be a challenging task. But, with the list mentioned above, the process can be a lot easier and faster. Depending on your preferences, pick a course that focuses on what you want to specialize in. Take time to research whether you would like to learn more of the back-end or front-end web development.
Even though you consider yourself not having any tech-savvy skills, it is still possible to learn about web development. It is relatively easy to learn computer skills as long as you have the determination and dedication. In no time, you will have a fulfilling and successful career in web development.
Featured image credits to Pexels.