People are engaging with your business across multiple touch-points. Whether they are accessing your ecommerce store through a mobile app or visiting your physical store, they want a seamless and consistent brand experience. To meet the expectations of your audience, you need to prioritize your brand's omnichannel ecommerce experience.
It's unsurprising, therefore, that one of the biggest buzzwords in eCommerce is omnichannel marketing. In this post, you will learn all about omnichannel ecommerce, its benefits, and how to leverage it effectively for your business.
What is omnichannel ecommerce
Omnichannel ecommerce is where you deliver a consistent user experience across multiple sales and marketing channels. A brand that engages in omnichannel ecommerce reaches out to customers through different channels such as blogs, websites, native apps, mobile browsers, email, social media, and physical stores.
That company can then manage the customer experience across all of these devices and channels. For example, a purchase is made in your eCommerce store, you send a confirmation message via email, and you can track the delivery through the store's mobile app.
That's a great ecommerce omnichannel customer experience.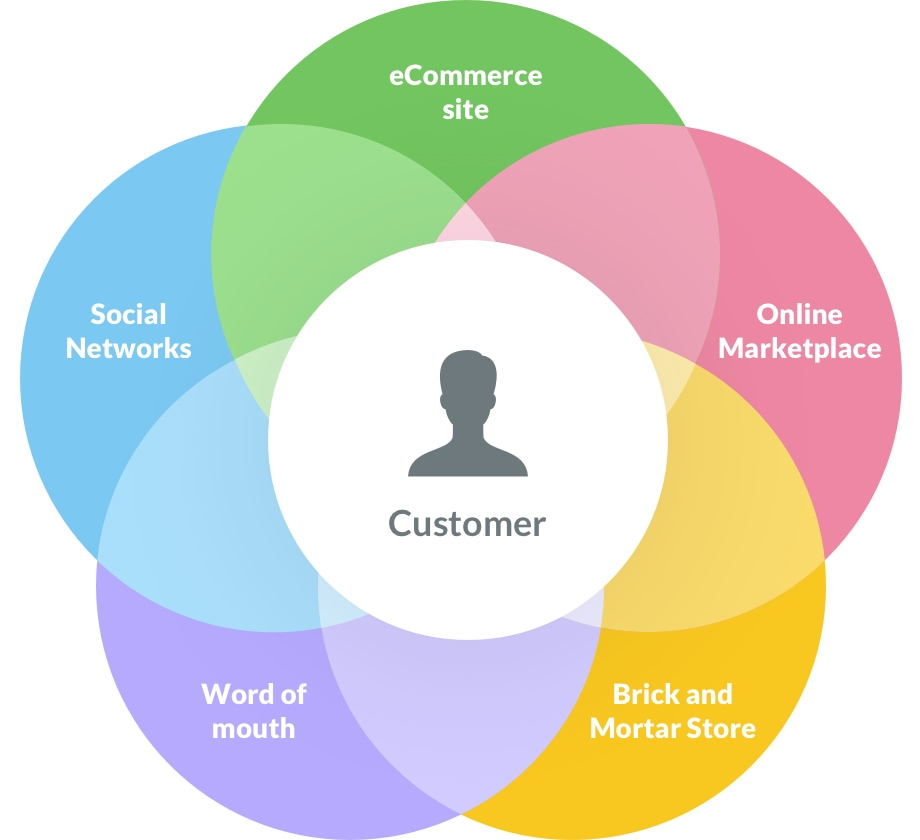 Source: X-Cart
According to the Harvard Business Review, over 70% of customers use multiple channels during their purchase journey. Providing people with a great experience across all of your marketing channels is a key differentiator that can make your business stand out.
Benefits of omnichannel ecommerce
Omnichannel ecommerce provides a consistent shopping experience for customers regardless of the digital platform or device they use. By breaking down the walls between channels, you make it easier for customers to engage with your company.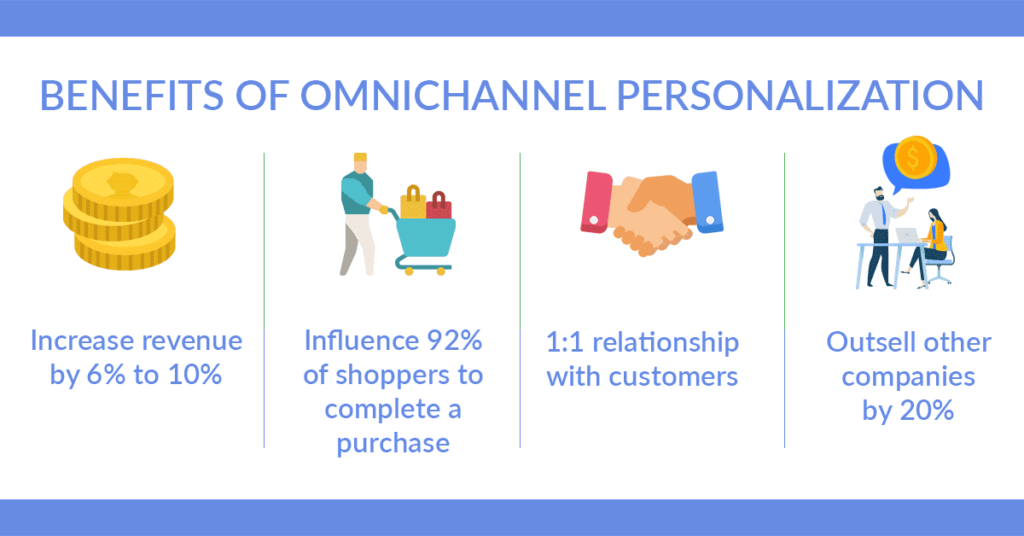 Source: Moengage
Omnichannel has multiple benefits ranging from higher revenues to better customer experience and loyalty. Let's look at some of the significant benefits in greater detail.
1. A better understanding of the customer journey
With omnichannel ecommerce, you can acquire and combine customer data from various channels. This combined data gives you a clear insight into the customer, their needs, and lifestyle markers.
Having a coherent overview of the customer journey will help you improve the experience for other prospects. For example, suppose you know that people visit a specific post during the consideration phase of the customer journey. In that case, you could send people who visited that page and are email subscribers a message.
In the email sequence, you could share relevant resources people visited that page during the latter stages of the customer journey. Lalo, a company that sells baby chairs, did something similar to this. They ran retargeting ads to people who visited their store. People who clicked on the ad were sent to a Facebook Messenger bot.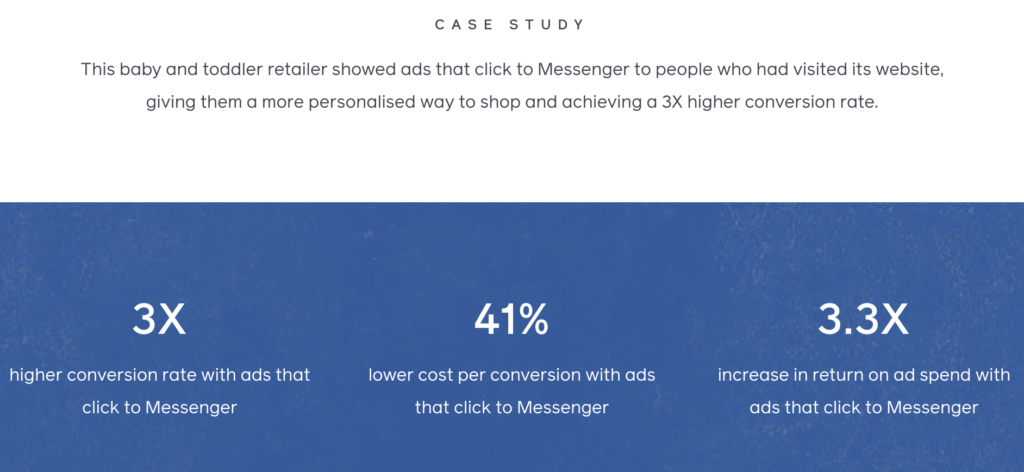 Based on answers to a specific set of questions, the store owners learned what products customers desired. They could then offer relevant products to prospects. That initiative resulted in an improved conversion rate and more sales for the store.
2. Improved customer experience
Customers look for a unified online shopping experience. According to UC Today, 9 out of 10 consumers want a seamless omnichannel experience between the brand channels.
With an increase in touchpoints, seamless integration between these touchpoints becomes critical. The touchpoints can be an email newsletter, in-person chat with your staff, mobile push notification, and social media video marketing.
By integrating multiple channels into one seamless experience for the customer, you give them the freedom to access your brand in their way. The benefit of customization in omnichannel operations can reach as high as a 30% higher lifetime value on average.
3. Consistent brand identity
When you have an omnichannel ecommerce, you can deliver cohesive brand messaging to your customers. The messaging needs to be the same irrespective of the point where your brand interacts with customers.
An omnichannel approach also involves the ability to adapt to customers' changing preferences. You need to be active on the channels where your audience is active and provide a consistent experience across these channels.
Why do you need to enforce your brand identity?
Simple – in your niche alone, you might be facing off against dozens, maybe thousands, of similar businesses. If your brand is just the same as the others, your customers will think that your products are interchangeable with your competitors' offers.
However, a strong brand will allow you to sell your products at premium prices.
Apple, for instance, offers the same types of products as Samsung and Lenovo. Still, because it has successfully positioned itself as a premium brand that enables creativity and innovation across different channels, it can draw in new customers solely on the goodwill that it has built through the decades.
4. Enhanced brand loyalty
Omnichannel customers tend to have higher levels of brand loyalty. According to a study, customers with omnichannel businesses logged in 23% more for repeat purchases than single-channel customers. The greater brand loyalty turns the customers into brand advocates who pitch your brand to friends and families.
You may build brand loyalty by captivating your customers with your engaging brand story. You want your customers to buy your brand not because you offered a 50% discount but because owning your brand makes them feel good about themselves. Offering a consistently good omnichannel experience is part of building the brand.
The more your customers interact with your brand across integrated channels, the more likely they become repeat customers. For instance, a customer who has had an excellent in-store experience will expect the same great experience when they log into your app or visit your website.
5. More sales
According to a Harvard Business Review study of 46,000 shoppers in a major U.S. retailer, omnichannel customers spend more on online shopping than single-channel customers. If your brand offers an omnichannel experience, and monitors relevant data metrics, it is likely to bring in more revenue.
Here's why: Omnichannel customers enjoy staying in touch with the brands they love and will use any channel available to do business with those brands. Users who downloaded the retailer's app also used in-store digital channels such as catalogs, tablets, and price checkers. They also bought items online and picked up their orders in-store and vice-versa.
Contrary to what you'd expect, omnichannel ecommerce isn't a catalyst for impulse purchases. Instead, shoppers deliberately look for reviews and product specs online before buying items from a physical store.
Finally, omnichannel shoppers tend to be more loyal to the brands they support, probably because they know they can get what they need through multiple channels. They are also more likely to recommend an omnichannel business to their family and friends.
4 tips to get the most out of your omnichannel ecommerce
To make the most of your omnichannel ecommerce, you should prioritize strategy building and take action on crucial data insights. Here are some tips that will help you reap the benefits of omnichannel ecommerce:
1. Identify the channels that work for you
Tracking key ecommerce metrics and using analytics will help you identify the channels that yield the most ROI. These metrics include traffic, sales volume, and sales margins. While these three metrics are related, their performances don't always correspond. For example, a high-traffic channel might yield low sales volume because of poor UX or low product availability.
Once you identify these channels, you can apply measures to improve their performance further. For instance, if you've pinpointed email as the best channel for reaching out to your audience, you may use an email finder and verifier to validate the email address of new customers.
2. Know the customer journey
When it comes to knowing the customer journey, never assume anything. You need to study your target audience to understand their interests and purchase triggers. Ask them questions, request them to give feedback, and use social media listening tools.
Based on the above, you may now determine their location within the marketing funnel.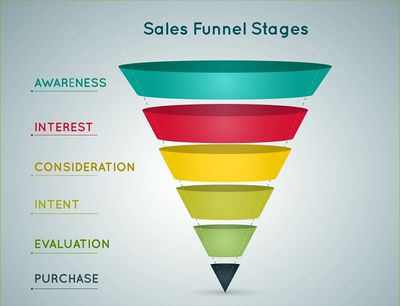 Source: CIO Wiki
New customers prefer to engage with your brand via multiple channels before buying products from your online store. Thus, you should monitor your sales funnel to find out opportunities that increase conversion rates and sales.
Abandoned carts, for instance, can be a good source of added sales. You can entice shoppers who have abandoned their carts to come back and finish their purchase by offering a discount or free item. On the other hand, a discount won't work very well if you offer it when the customer is still considering all their options.
3. Connect and maintain the channels
You can only offer a true omnichannel experience if all of your channels are interconnected seamlessly. You will need to invest in technology to integrate different solutions across different platforms. For example, when a customer searches for a certain product on your ecommerce website, your website should be able to take note of that search and add it to your "featured products" email newsletter.
One way of achieving this goal is to use a single source of truth for customer, product, and order data. Customer data, for example, should be stored in a customer relationship management (CRM) system, which is then connected to all of the channels. This will allow each channel to pull up customer data as needed.

Aside from working on the inner workings of the omnichannel experience, you will also need to work on what the customer sees and feels: the customer experience. Each touchpoint should provide a positive customer service experience for the customer, whether online or offline. One weak touchpoint could ruin what is otherwise a robust omnichannel experience, so you need to test and adjust each of your channels constantly.
It's challenging to build and boost brand awareness in today's crowded marketplace. With brand promotion via multiple integrated channels, you can increase customer impressions and improve brand image because of a hassle-free cross-channel experience.
4. Tap into the potential of the data
Much of the beauty of omnichannel ecommerce lies in the wealth of data that it allows you to collect. This data includes customer demographics and preferences. It also includes inventory and sales volumes.
Using the data, you collect through different channels. You can draw a more or less accurate picture of the typical buyer journey. You may start by finding out how customers become aware of your brand and end by discovering the channel where they make the purchase and/or encourage other people to buy the same thing.
On the other hand, product and sales software can help you predict the locations or channels where you'll need to re-stock the product due to high demand. For example, winter clothes aren't selling well in New York in June. However, the demand for them might be high in Auckland, where the temperature could go down to single digits in the same month.
By collecting and analyzing data from your omnichannel ecommerce business, you can draw up strategies that can help you maximize your sales volumes and revenue.
Bottomline
The ecommerce world is rapidly evolving. It's no longer enough to operate an ecommerce website if your goal is to maximize your profits. You need to maintain an omnichannel ecommerce posture to ensure that you can reach your market all the time.
Omnichannel ecommerce goes beyond enabling your customers to make purchases from you online. It spans the entire customer experience across different channels, from the moment a customer becomes aware of your brand through social media to the moment they purchase from a brick-and-mortar store. It also covers the post-purchase experience, giving you an unparalleled opportunity to maximize customer loyalty.
By embracing omnichannel ecommerce, you don't just prepare to reach out to customers where they are. You also get ready to become a ubiquitous part of your customers' lives.