Now you have seen the many technical geeks murmuring about bootstrap and angular website. To be precise, bootstrap is a framework, made from the amalgamation of CSS and HTML5. This revolutionary framework has proven its worth and helped many businesses to make an attractive website design that is highly intrusive and attractive.
If you are just starting to learn Bootstrap, we have created a series of tutorials called
14 Days of Bootstrap 4
that can help you.
In this post, I am going to provide you a list of top 15 bootstrap website template that will help you to decide which template will suit the nature of your business. I prepare this list with two sections, the first one is for the freebies and the second section of the post consist of the premium templates.
So, let's get started with the list. Here, we go
1. Light Bootstrap Dashboard React
If you have a CRM service for your customer then you are going to love this template. This template is built on Light Bootstrap Dashboard & React JS. This template is fully responsive. With this template, you can easily create your admin panels, web application backend, CRM or CMS. And the best part of it is that you can avail it for free.
2. Paper Dashboard Angular
If you have a knack for love for beautiful typography and graphics and capacious cards, then this is the best choice you. Paper dashboard Angular is built on Google's Angular framework and HTML version of Paper Dashboard. This dashboard is very light and easy to use and still, it is very powerful. It is a free template yet it also has an upgraded version as Paper Dashboard Pro Angular.
3. Gaia Bootstrap Template
Gaia Bootstrap Template is one of the best Bootstrap templates. Actually, it is a free demo of Gaia Bootstrap template pro. This template is a multi-page bootstrap template that is designed to be easy but stylish. There are 9 different example pages that can suit your business.
4. Awesome Landing Page By Creative
This incredible one-page template is the best in its class. It is featured in 5 beautiful colors. This caters you to showcase all the features of your website. With this template, you can easily build the confidence of your customer by listing your users. This will please the buyer and certainly increase the loyalty of your customers.
5. Coming Soon Bootstrap 4
This theme is Bootstrap 4 based and is build by TemplateFlip. It features a full page background image along with modern typography, and Font Awesome social icons. An e-mail subscription modal dialog is included in the template which gets displayed upon clicking the "Notify Me" call-to-action button. The template is completely free under CCA3 license and can be used for personal as well as commercial projects.
6. Grayscale
If you are looking for a website template with dark layout then this free responsive Bootstrap 4 template called Grayscale will certainly please you. It has a fixed top navigation which collapses on a scroll and has smooth scrolling animations along with a scrollspy that highlights active page sections.
7. Fitness
Fitness is an open source and free single page website template built with HTML5, Bootstrap 4, Gulp, Sass, and jQuery. It is mostly used by sports-centric websites and fitness websites. It has very sober design and this is the reason it is preferred by all the above niche business. Gym owners also prefer it because of the sleek design.
8. Espire
When it comes to premium bootstrap website template, Espire is the one that caters an amazingly unique design with loads of features that will help you to build a wonderful website. This template is bundled with HTML5/jQuery/AngularJS version. It is a developer-friendly template with clean coding. You can avail it for only $22.

9. BeTheme
This robust and responsive website template is one of the best in its class. This template is built with Bootstrap 4 and HTML5. It is rendered to be highly responsive and multipurpose as all nature of website can use this website template for just $18. ThemeForest developers have created this website template with clean coding which makes it a developer friendly website template.
10. Canvas
Canvas is literally a canvas that provides a layout for all kind of websites, be it Medical, Business, Corporate, Construction, Media Agency, Magazines, Travel, Portfolio, Real Estate, or Blog. You can say that everything is possible with Canvas. There are more than 100 homepages and 850+ HTML Files with the bundle. I know that is huge. Give it a go and enjoy.
11. React
React is created by the robust amalgamation of HTML5 and CSS3 (That's Bootstrap actually!!!). It features a highly responsive design which enables your website to work awesomely on any device. The template layout is simple, modern and nice. You can easily customize it. This layout also enables you to have a good documentation and awesome support.
12. Unify
Unify is one of the most beautiful bootstraps 4 website template that can be used by almost every niche of business. There are more than 250 shortcode pages that include about 1610 UI components that can be reused in every possible way. This template saves a lot of time and money of yours as it is multipurpose.
13. The Project
The Project is a Powerful Multi-Concept Bootstrap Template. It has endless possibilities and It is perfectly suitable for your next Project. The developers have included 29 Homepages & 190+ HTML Files in the Package. This template is available in 14 different colors and 12+ Header Options. You can avail this template for just $16.
14. Vitality
Vitality is a one-page bootstrap website template that is clean, highly responsive and professional. You can start with any of the five unique page samples which will range your business in no time. You can avail this robust website template for just $10.
15. Mazel
Mazel is one page or multi-page multipurpose responsive HTML5 Template. This theme includes over 119 HTML pages and easy to use templates. Mazel has 2 website template demos, 22 one-page layouts, 15 blog pages, 7 shop pages, 16 multipurpose home layout, 7 element pages, and 20 extra pages. You can avail this wonderful website template for just $10.
16. Azia Admin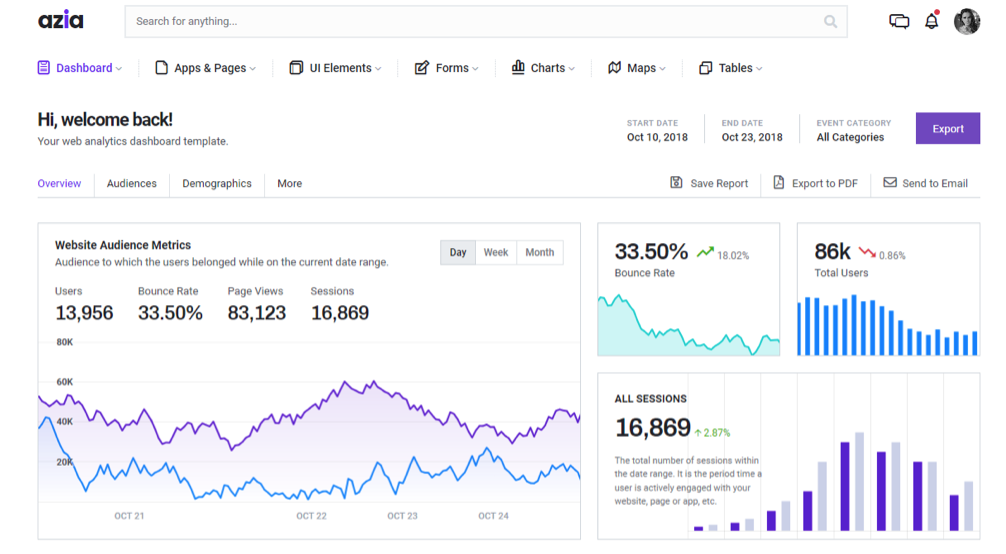 Azia, a next generation modern and clean Bootstrap 4 dashboard and admin template using flat, modern and minimal design. It is fully responsive built using SASS preprocessor, HTML5, CSS3 and jQuery plugins. It can be used for most type of dashboard and app templates like analytics, saas, product monitoring and much more for your desktop or mobile applications. Amazing flexibility and reusability.
Conclusive Remarks
So, these are the top 15 free and premium Bootstrap website templates that will help you to build a robust website that will give new heights to your business. So, go for these and claim a difference.